CAS academic explains China's Mars mission
Date: Jul 24, 2020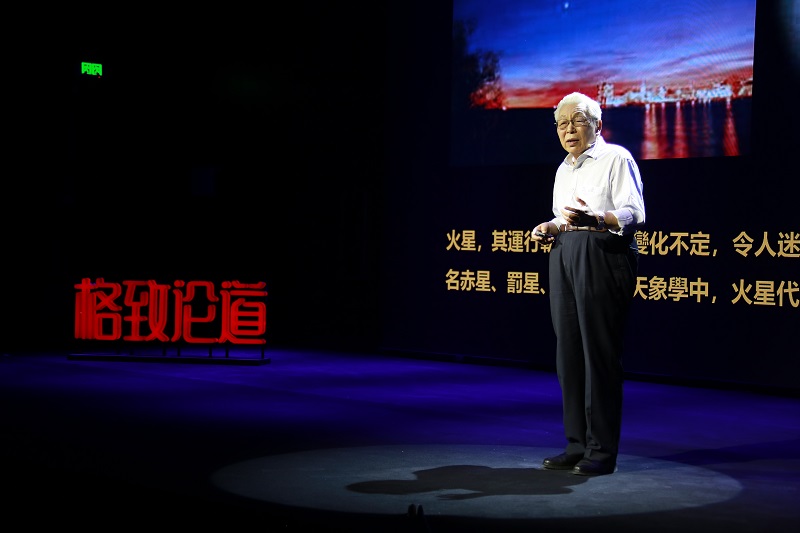 Ouyang Ziyuan, an academic with the Chinese Academy of Science (CAS) and the chief scientist of China's lunar probe project, speaks during a recent Gezhilundao Forum of the CAS. [Photo courtesy of www.kepu.net.cn]
Ouyang Ziyuan, an academic with the Chinese Academy of Science (CAS) and the chief scientist of China's lunar probe project, explained the country's Mars exploration mission Tianwen-1 during a recent forum hosted by the CAS.
"Tianwen-1 is the first Mars exploration mission to be independently developed by China," Ouyang told the audience. The mission's aim is to complete orbiting, landing and roving on Mars.
A Mars probe was launched aboard a Long March-5 rocket from the Wenchang Spacecraft Launch Site on the coast of southern China's island province of Hainan on July 23.
As only 24 out of 47 attempts to explore Mars have succeeded in human history, one may wonder why humanity is so persistent in setting foot on the "Red Planet."
According to Ouyang, the primary reason for this has always been to search for life on Mars; and if it exists, what kind of life is it? In addition to this, scientists need to study the planet itself, such as its magnetosphere, magnetic field, atmosphere, surface, and geological structure.
Once scientists figure out these two aspects, the long-term goal is to create a second home for humanity in case the Earth becomes no longer habitable in the future.
Regarding the Tianwen-1 mission, Ouyang explained that both an orbiter and rover would be sent to explore the "Red Planet."
"We have decided the landing sites of the mission, which is at those high latitudes in northern Mars where there was once an ocean," Ouyang said. "Both our lander and rover will land on these flat regions."
Ouyang also elaborated on the scientific tasks of the mission. According to him, there are seven devices equipped on the orbiter, and they will be used to explore the planet's topography, rock distribution, and climate.
In addition, there are another six devices installed on the rover to detect the situation underneath the Martian surface, including the distribution and composition of the soil, and the existence of groundwater. There will also be a weather station on the rover to explore and record the climate on Mars.
Speaking on the significance of collecting samples from Martian rocks rather than simply studying Martian meteorites, Ouyang said that knowing where these samples are collected is more useful when answering scientific questions about the Mars.
Ouyang expressed his belief that China had the capacity to excel at space exploration.
"I sincerely hope the younger generation can learn and love science, carry forward the spirit of science, and develop their own scientific thinking," Ouyang concluded.
The talk was hosted by "Gezhilundao Forum." Formerly knowns as SELFtalks, the forum is organized by the Computer Network Information Center and CAS Bureau of Science Communication, and hosted by kepu.net.cn. It is committed to the interdisciplinary communication of exceptional insights, and advocates the discussion and interaction about the development of science, education, life and future in the spirit of investigating the world to attain knowledge.
Ouyang Ziyuan explains the similarities between the Earth and Mars during a recent Gezhilundao Forum of the CAS. [Photo courtesy of www.kepu.net.cn]
(China.org.cn)