SELF stories from foreign experts: highlights of 2016-2019
Date: Jan 19, 2020
With support from CAS Bureau of Science Communication, CNIC initiated the Science, Education, Life and Future forum (abbreviated as SELF) in 2014, which invites outstanding professionals from all walks of life to give short talks and interact with the audience on cross-disciplinary topics. The core values of SELF was reflected in its name, the important role of the Self, and the powerful convergence of Science, Education, Life and Future. By the end of 2019, nearly 300 experts have spread ideas at SELF activities, among them five are foreign experts sharing their work & life stories and understanding about China. Below is a collection of their stories in chronological order.
1. Jingmai Kathleen O'Connor (Zou Jingmei)
"Everyone's life is a unique journey. The destination is not all that matters – how we get there is really the best part."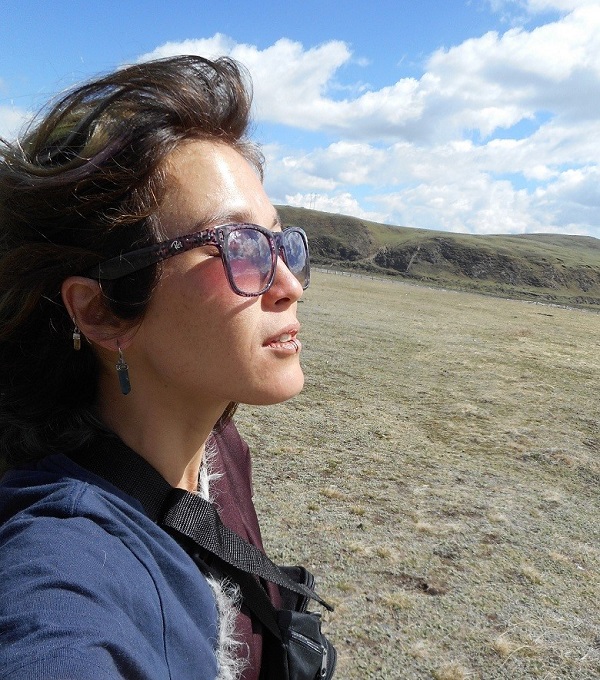 Jingmai is a paleontologist at the Institute of Vertebrate Paleontology and Paleoanthropology of the Chinese Academy of Sciences, and her research focuses on the study of extinct animal remains that are preserved and petrified as fossils. Being half Chinese and growing up fascinated with the culture of her mother and grandparents, Jingmai decided to come to China to combine her interests about Chinese fossils and Chinese culture. During a SELF talk in April 2016, Jingmai shared the stories about her journey that brought her to the Chinese Academy of Sciences.
Click here to watch Jingmai's SELF talk
2. Theodore Gray
"When you write a book, you are forced to learn a lot about many things. So I learnt a lot about elements in the process of writing this book. And I also learnt a lot about myself."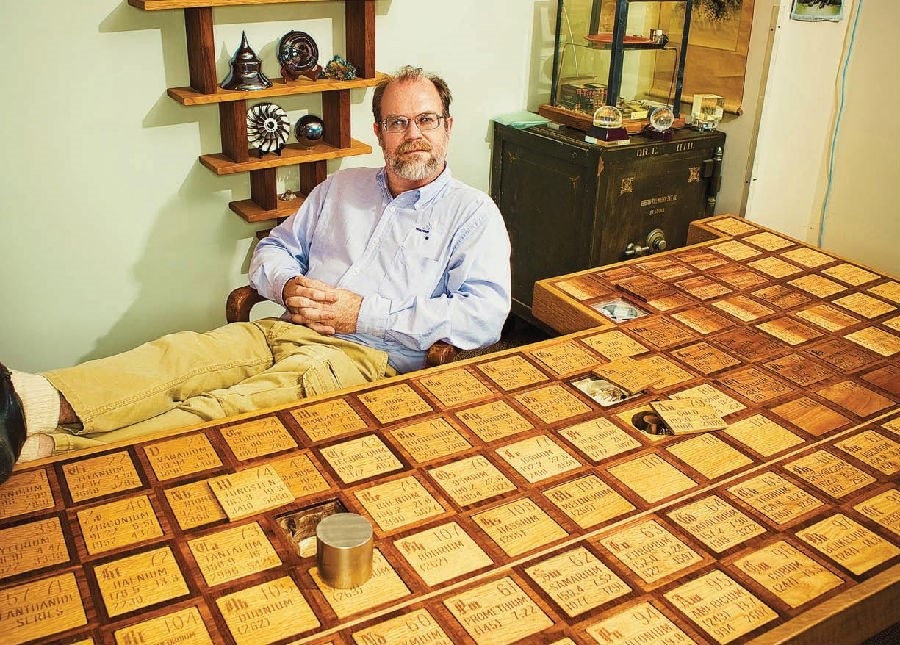 Theodore Gray, Chemist and winner of the Ig Nobel Prize in 2002, inspired the audience with interesting stories about his favorite subject chemistry, and his experiences of creating bestselling science books such as Mad Science and The Elements: A Visual Exploration during a SELF activity in July, 2017.
Click here to watch the SELF talk of Theodore Gray
Click here to view Gray's SELF talk highlights from chinadaily.com.cn
China Daily used a SELF portrait to tell the story about Theodore Gray
3. David G. Evans (Dai Wei)
"I think it is important to let the next generation of young kids in China be excited about chemistry."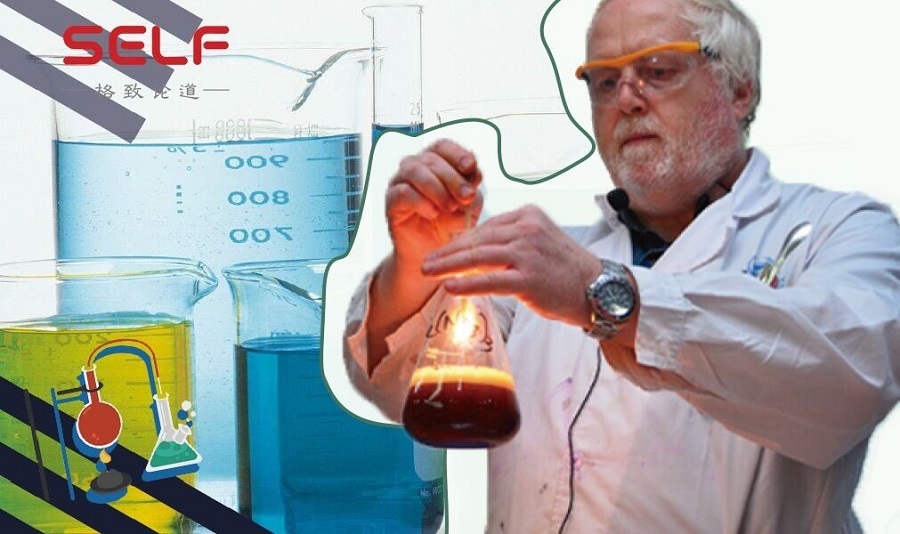 More than three decades have elapsed since David G. Evans first visited China in 1987. After several visits to Chinese universities in early 1990s, he was convinced of China's great potential for research and education, and decided to move to Beijing University of Chemical Technology in 1996. He now works in China as Professor of Beijing University of Chemical Technology and Chair of Beijing Local Section of the Royal Society of Chemistry, and has become well-known for his passion on chemistry education. As an experienced China hand, David used Chinese to give a talk during a SELF activity in October, 2017.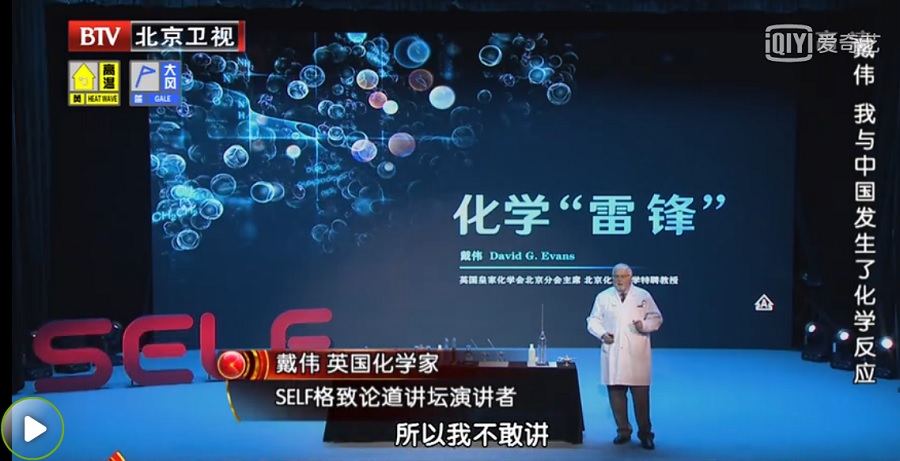 Beijing TV used David's SELF talk to start the story about his "chemical reaction" with China
Click here to view a news report about David's engagement in China's Science Week from chinadaily.com.cn
4.Joseph Graves
"So you can read along with me either in your mind in English or in the Chinese translation behind me which is by one of my heroes Zhu Shenghao. And so imagine in your mind, as I'm going to for a moment, a very old man reflecting, at the edge of death, reflecting on his life, what happened to him, and what happens to all of us in the course of our life."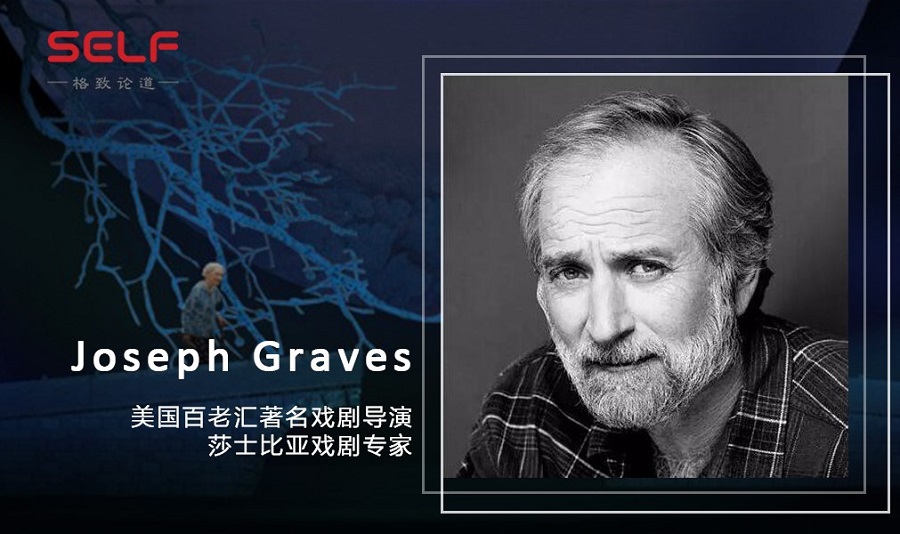 Joseph Graves, US theater director, actor and writer, shared with the Chinese audience about his understanding of the writings of William Shakespeare, and their profound influences in theatre and poetry in the English language during a SELF activity in November, 2017.
Click here to watch Graves's SELF talk
Click here to view an interview of Joseph Graves after his SELF talk from chinadaily.com.cn
5.Mattias Kreck
"I hope you have learned two things. First of all, mathematicians can make jokes. Very important, very important thing. Secondly, mathematicians can solve real problems, like the wobbling table."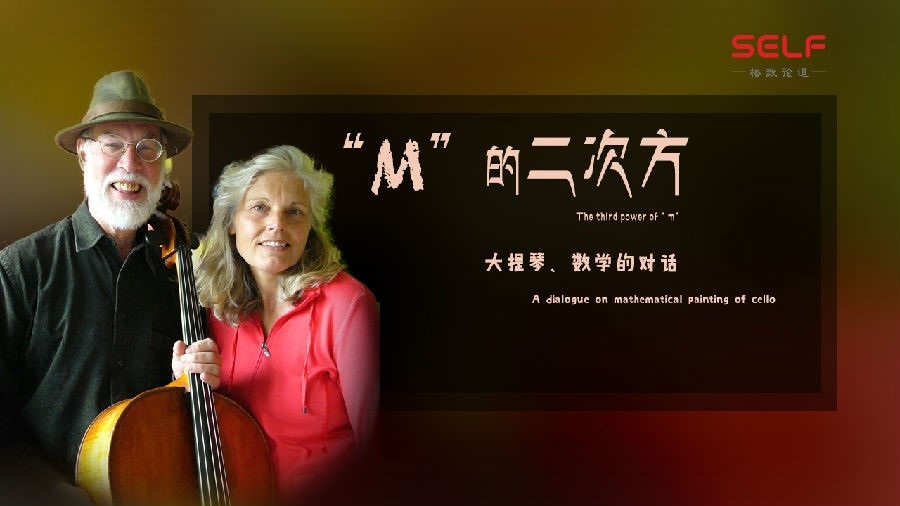 Mattias Kreck, a German mathematician who works in the areas of Algebraic Topology and Differential topology, shared his passion for math and music with the Chinese audience during a SELF activity in April, 2018. At the end of his talk, Kreck expressed his gratitude for the opportunity to play a wonderful concert and the Chinese audience's knowledge about his German colleague Beethoven.
Click here to watch Kreck's SELF talk
Click here to view an interview of Mattias Kreck after his SELF talk from chinadaily.com.cn
Related article:
2. Virtual Science Museums of China