A Collaborative Lab Established to Support Cross-border Data Flows
Date: Dec 28, 2019
A collaborative lab was established to support cross-border data flows in Beijing on December 26, 2019. As the first lab in China focusing on cross-border data flows and security governance, the lab was initiated by China Center for Information Industry Development, JD Digits, Computer Network Information Center of the Chinese Academy of Sciences, Institute of China United Network Communications Group, and Institute of Strategic Research of the Peking University. Representatives from the five founding organizations attended the inaugural ceremony and had an in-depth discussion about the progress and gaps of the research on cross-border data flows.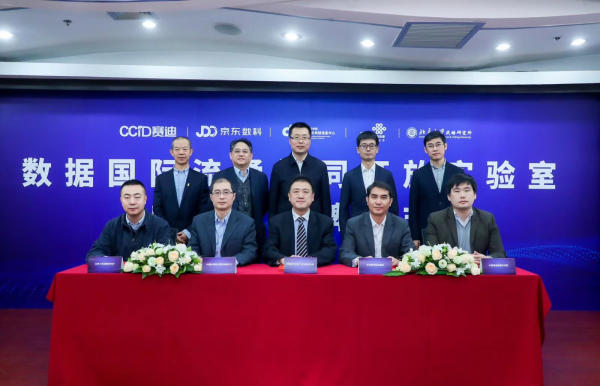 Data is the lifeblood of the modern global economy. The rapid growth of the digitization of organizations and trade activities, driven by the wide adoption of technologies such as cloud computing and big data, has increased the importance of cross-border data flows to the development of global trade and economy. With cross-border data flows as the research priority, the lab will support the big data development strategy and the growth of digital economy through its research on regulating the cross-boarder data flows from various aspects such as policies, industries, technologies and applications. Through adopting a collaborative construction pattern, the lab will work with more research institutions and enterprises with common interests to promote the sustainable development of cross-border data flows.
In the near future, the lab will actively participate in the development of national standards and advanced applications to support typical scenarios such as cross-border e-commerce, logistics, payment and supply chain management with a special attention to the digitization strategies of prioritized cross-boarder trade regions such as Guangdong-Hongkong-Macao Greater Bay Area, Beijing-Tianjin-Hebei Region, Yangze River Delta Area and Hainan Free Trade Port. In the long run, the lab aims to make contributions to the construction of the digital silk road and growth of global digital economy based on the development demands of Belt and Road countries.